Caring Clowns International donates funds to the Butterfly Readers program
Caring Clowns International donates funds to The Butterfly Readers program
While many children in the United States struggle with reading and writing skills, the number of struggling readers in South Africa is extraordinarily higher. Until recently, there has been no scientific measurement of the numbers of children in South Africa who are unable to read. But recently, South African born Carol McCullar — who has spent her career in education including time as a school principal — introduced a method to measure the reading and writing levels of South African students….and the results are staggering. After launching a highly successful reading program at the Athlone Girl's High School in Johannesburg, Carol is now working on obtaining grants to help expand The Butterfly Readers program to other South African schools.
Caring Clowns International has donated money from its recent Dinner-Auction to The Butterfly Readers, a non-governmental charitable organization, whose goal is to improve the reading and writing skills of children in South Africa. Carol met Caring Clowns International President of the Board and Acting Executive Director Jed "Duffy" Selter at a conference 20 years ago. They share a passion for volunteerism and striving to improve the lives of children.
Carol's new scientific reading assessment is shedding light on the magnitude of the problem South African students face. In one second grade class alone, 100% of the students read below level and a full 50% could not read at all. The problem continues as the students advance in age and grade. At Missouri Secondary School in Johannesburg, 77% of students in grades 8 to 12 failed to read at acceptable levels. While online reading programs are available, Carol has targeted the poorest of the poor – schools that don't have iPads, internet…or for that matter, electricity.
"One 5th grader just started crying," Carol said because he couldn't read at all.
There are many examples demonstrating that a dedicated reading program can have positive results. In one school after completing a 12-week program, 7th graders were reading at 9th and 10th grade levels. Children who were tested at reading only 13 words a minute prior to being tutored had increased to 113 words a minute after 12 weeks, while also improving their comprehension. Word of the success of the program has spread and many South African schools are clamoring for Carol to include The Butterfly Readers program in their schools.
The Butterfly Readers is about giving children the reading and writing skills which will transform them from recluse caterpillars to confident butterflies who – with their new found skills — have a fighting chance to improve their lot in life. Carol has submitted a proposal to the Department of Education in the Gauteng District, to help fund 100 tutors who would go into schools to teach English reading and writing. Right now, a few of the tutors who have been working with Carol are doing so on a volunteer basis….as is Carol herself.
The support from Caring Clowns International helped defray Carol's travel from Minnesota to South Africa and food during her stay. In addition, the Poulsbo, Washington Rotary Club Rotary also contributed to the Butterfly Readers program.
"Caring Clowns International has donated over $300,000 to over 40 non-profits around the world and we're very pleased that in some small way we are helping The Butterfly Readers program," said Jed "Duffy" Selter of Caring Clowns International.
Born in Johannesburg, Carol's passion has always been improving people's lives through education. She was a school principal for children with special needs in South Africa. Then she went into adult education being a diversity training facilitator of personal mastery in South Africa. The past several years she worked with UNESCO as a project coordinator on issues such as housing, human rights and HIV/AIDs. She moved to Minnesota after marrying her husband where she obtained her work permit and became a teacher for the Lighthouse project; a program dedicated to children with special needs. In addition to her work in Johannesburg, the South African Honorary Council in the state of Minnesota invited Carol to Cape Town, South Africa to administer her reading assessment for students there. The results proved that reading and writing skills in Cape Town were just as poor as Johannesburg.
Ultimately with support and funding, The Butterfly Readers – just like the metamorphosis of the caterpillar to a butterfly – could transform the national education landscape in South Africa.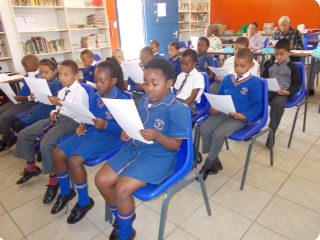 Students in South Africa practice their reading skills.
Caring Clowns International is an all-volunteer, IRS tax-exempt 501(c)(3) charitable nonprofit organization comprised of clowns across the U.S. and several other countries. These clowns donate their time at over 80 events internationally and across the U.S. including orphanages, children's and other hospitals, events for homeless children and adults, residences for abused women and children, schools for the disabled, retirement centers, VA hospitals, events for kids with down syndrome and disabilities, and children whose parents are in prisons and correctional facilities, community events and private parties.
Members have clowned and supported nonprofits operating in Afghanistan, Angola, Bangladesh, Bolivia, Brazil, Canada, the Caribbean, the Dominican Republic, England, Ethiopia, France, Guatemala, Hong Kong, Italy, Kenya, Mexico, Nepal, Peru, Russia, Sierra Leone, South Africa, South Korea, Thailand, Uganda, the Ukraine, Vietnam, and throughout the United States. Thousands of children and adults have received red clown noses, balloon sculptures, toys and stuffed animals.
The organization's goal is to raise and responsibly donate $5,000,000 to help needy children in the world. To date, Caring Clowns International has donated over $302,000 in funds and equipment supporting many nonprofits in the U.S. and developing countries.
Caring Clowns International is a tax-exempt organization under Section 501(c)(3) of the Internal Revenue Code
« Previous: Dinner auction raises record funds press release
Next: Announcement: October Beginner's Clown Class Available »